Castle on Charles – June 1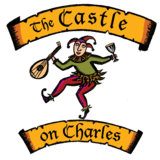 Last Saturday's Portsmouth Book & Bar show was fantastic! A big, big thank you to all who were there. More and more the band is beginning to feel like they've really found the sound they've been looking for all along.
Next up: Castle on Charles – Friday, June 1 @ 8:00 PM
Don't miss it!