The Mystix 4th album: "Mighty Tone"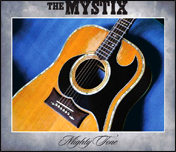 In their fourth album, The Mystix have had the privilege and joy of interpreting the songs of many influential artists. This list includes Emmitt Miller's "Jelly Roll", Jimmie Rodger's "Blues #4" (originally titled "Blues Yodel #4), Ernest Tubb's "Mean Woman Blues", Roebuck "Pop" Staples' "Wish I Had Answered", and the Reverend Julius Cheeks classic, "I'll Believe I'll Run On". The Mystix also include the more sophisticated jazz and blues styles of Charles Brown and others, including a Floyd Dixon tune, "Time Brings About a Change".
Many of their arrangements include additional lyrics or well-known gospel bridges that may not have appeared in the original recordings. This "poetic license" is well within tradition, allowing for flexibility in the presentation. Many artists would "cover" a song and make their own contribution to lyrics and arrangements. The Mystix chose to "stay loose" with their interpretation, in an attempt to capture the original spontaneity so inherent in this music.
The Mystix have also added a few of their own tunes. In "Mighty Love," they include the Downtown Chicago harp sound of the great Jerry Portnoy (Muddy Waters, Eric Clapton), matched with a soulful "Pop Staples" style guitar, resulting in an alternate approach to a traditionally spiritual song. In "Mighty Tone," the band combines the bluegrass sound of Bill Monroe, with the vocal approach of early country and western (Johnny Cash, Don Gibson).
This is a music of celebration, innovation and revelation. The writing, assembling, and arranging of this Americana "ramble" has been a project infused with joy, which the band hopes to share with their listeners. They would like to thank the many musicologists who have collected and preserved this vital aspect of our shared and uniquely American spirit.