The Mystix 6th album: "Rhythm And Roots"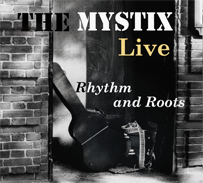 Great news for Mystix fans! The band's legendary sound has been captured on their sixth CD, Rhythm and Roots, and is now available for purchase! The Mystix are known for their live performances and the band is excited to offer these high-quality, live recordings captured from recent dates over the past two years. Blue Ocean, Tupelo, Portsmouth Music Hall and their special, private performance at the Gould Barn—they're all included in this exciting CD.
"Rhythm and Roots is a culmination of all the years of crafting and perfecting our unique sound. And after several years of our fans requesting a live album, it feels great to present something this good."
Their five previous, critically acclaimed CDs have enjoyed substantial airplay across the country and around the world, consistently appearing on major Americana/Roots charts in the US, UK and Europe. But this is the album Mystix fans have been waiting for.
Noted for their impeccable musicianship as well as their soulful, spirited and lighthearted performances, The Mystix legendary, veteran lineup never fails to deliver a thrilling performance. Don't miss the opportunity to hear a full show featuring spirited performances of traditional Americana songs, The Mystix' critically acclaimed originals and the band's unique interpretation of deep soul.