The Mystix Album "Blue Morning" Charting World Wide Now!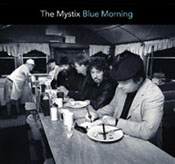 Ten months after its release, "Blue Morning," is going strong, moving up roots and country playlists around the country and picking up notable airtime internationally and through satellite radio.
The second release from The Mystix represents the band's first endeavor into the Roots genre. It is AVAILABLE online through CD Baby and iTunes, and also at Newbury Comics stores, and Dyno Records in Newburyport, MA.
#16 on American Roots chart – #23 on X-Country!
Feature Tracks:
Rattled
Yolanda
Another Kind of Love