The Mystix proudly announce the release of their 3rd album: "Down to the Shore"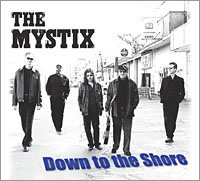 The Mystix are working with Richard Rosenblatt, from Vizzable Productions and the VizzTone Label Group, and the Artist Development Co-op for the release of this unique roots collection. Not only does the album features songs by some of the early giants of roots music but also sensational new original songs!
An Amazing Americana/Roots Journey!
On this album The Mystix completely embrace the Americana/Roots genre and write to it as well. Plus, as promised, the album features a live track from the band's Tupelo Music Hall show! CDs and MP3s are available at Spotify, iTunes and Amazon.
#6 on WZLX's Sunday Morning Blues Top 30!
Listed as Potential Grammy Nominee for Best Americana Album!
Opened on the EuroAmericana Chart at #5!
Charting on the Americana Airplay Chart at #17!
Charting on the Jambands.com/Relix Radio Chart at #10!
Feature Tracks:
Down to the Shore
Get Right
Roll of the Dice